Aerial View of Kagels Cottages Facing East
(Scroll Down for Description)
---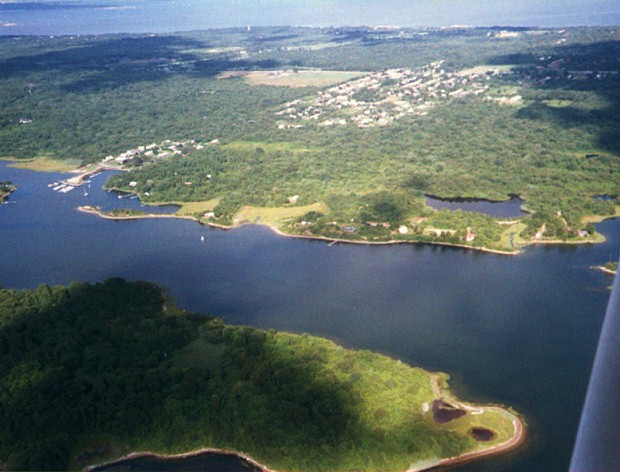 Foreground - Ram Island - Across Salt Pond are "Kagels Cottages" from the center of the picture to the right:
Cottages from left to right are The Lingard's Cottage, The Double Camp (Note dock
in front of house, just about center of picture), New Cottage, Montgomerys, General's,
On the next hill over (far right on the shore), Woods and Blueshell Cottage.
Upper right corner is Scarborough State Beach on the Atlantic Ocean.
Following that shore to the right (south), you will reach Pt. Judith and its lighthouse.
Following shore to the left (north) you come to the Town of Narragansett, and the water becomes Narragansett Bay.
In the extreme upper left corner, you can see the southern tip of Jamestown. Across the water from there to the east is Newport.
Salt Pond has access to the ocean about 3 miles to the south at the breachway between Galilee and Jerusalem. Block Island is about 12 miles off the coast to the south. The Block Island ferry leaves from Galilee.
Cottages | Home